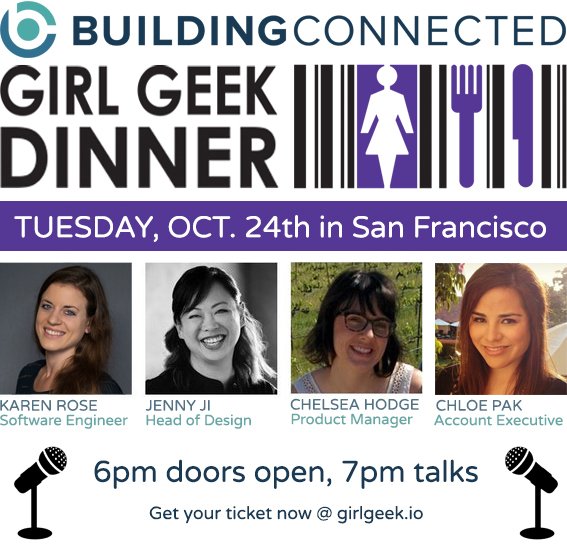 BuildingConnected is hosting a Girl Geek Dinner on Tuesday, October 24th, 2017 in San Francisco at Tank18 Tasting Room in SOMA!
Come hear the girl geeks at BuildingConnected talk about designing modern, user-friendly products for companies big and small, as well as challenges involved with breaking into an industry traditionally underserved by tech.
Enjoy appetizers and cocktails at the Tank18 Tasting Room, plus the opportunity to take some fun photos with a professional photographer. Don't leave the without picking up great swag!
BuildingConnected is a fast-growing startup making a huge impact on the $10 trillion construction industry. Known as the Salesforce and LinkedIn of commercial construction, we offer a CRM and professional network to help companies grow and manage their businesses. From the new Warriors stadium to local schools and hospitals, our software plays a pivotal role in over 45,000 building projects throughout the US and Canada.
Please Follow Us:
Twitter: @bldgconnected @bayareaggd
Event Hashtag: #BldgConnectedGirlGeekDinner
BuildingConnected Girl Geek Dinner Agenda:
6:00pm – 7:00pm – Check-In, Networking, Food & Drinks!
7:00pm – 8:00pm – Welcome & Talks by BuildingConnected Girl Geek!
8:00pm – 8:30pm – More Networking!
BuildingConnected Girl Geek Speaker Bios:
Karen Rose (Software Engineer, BuildingConnected)

Karen Rose is a full-stack software engineer at BuildingConnected. She builds user-friendly products to help construction professionals organize their pipelines, and works on integrations with major partners like Procore. Prior to BuildingConnected, she shared her passion for high-quality software and intuitive user experience by teaching and mentoring at MakerSquare. Karen holds a bachelor's degree in Computer Science from the University of Saint Thomas in St. Paul, Minnesota and is obsessed with efficiency in daily life. She's always in search of ways to free up cycles so she can focus on what she loves, like traveling, hiking, rock climbing, camping, and running.
Talk Topic: "Turning Opinion Into Influence" by Karen Rose
True influence requires you to not only speak up when you see a problem, but also suggest a solution. Learn how Karen spoke up about a chaotic on-call process the BuildingConnected engineering team had grown out of. This led to a complete overhaul of the process, and with input from the entire engineering organization, is maximizing developer happiness while staying true to their #1 goal of top-notch customer happiness.

Jenny Ji (Head of Design, BuildingConnected)

Jenny Ji is the Head of Design at BuildingConnected, focusing on simplifying complex workflows through well-designed, usability-focused software. She believes that great design integrates aesthetics with user needs. When paired with modern technology, design can have a huge impact on the way people work. Jenny started out as a print designer with a severe allergy to web design until she learned to code. She has since spent over ten years designing strategic solutions for startups, non-profit institutions, creative agencies, Fortune 500 companies and beyond.
Talk Topic: "Some Say 'Boring', I Say 'Opportunity'" by Jenny Ji
How did a print designer turned web designer turned freelance art director end up designing, and loving, software for the construction industry? Jenny will share how she finds potential in "boring", and how pursuing those opportunities can have huge impacts on industries neglected by design.

Chelsea Hodge (Product Manager, BuildingConnected)

Chelsea Hodge is the product manager for the BuildingConnected team that is revolutionizing how construction companies solicit, submit, and analyze competitive bids for projects. A lover of challenges, she couldn't ask for a better one than modernizing bid management, a process that's complex, high-stakes and often low-tech: reams of paper and faxes are not uncommon! Chelsea double majored in environmental analysis and economics at Pomona College and prior to BuildingConnected was a product manager at Lucid, working on their data & analytics platform for building operations. A Bay Area native, Chelsea loves cycling, cooking, touring construction sites, reading the New York Times, and backpacking anywhere with massive amounts of granite.
Talk Topic: "Follow Our Path: The Secret to Making Incredible Software for the Workplace" by Chelsea Hodge
Chelsea makes the case for why companies and customers win when product & design teams choose flexibility over customizability. She presents evidence that B2B software is moving in this direction, and shares how BuildingConnected implements this philosophy, despite their incredibly diverse user base.

Chloe Pak (Account Executive, BuildingConnected)

Chloe Pak is an Account Executive at BuildingConnected focused on our new product for subcontractors. She is a founding member of the team, and works cross functionally across sales and product to help shape the direction of this product as it goes to market. Previously, Chloe was a founding member of the UberEATS sales team, where she designed and implemented the call structure and new hire onboarding process for North America. In her time off she enjoys yoga, cooking, traveling, and eating delicious food.
Talk Topic: "Sales + Product: How We Build Better Together" by Chloe Pak
Though many companies understand the benefits of a strong relationship between product and sales, making this a reality can be challenging. Chloe shares how the BuildingConnected sales and product teams use a collaborative process for feedback and product requests, roadmap transparency, and communication to improve the product, increase customer trust and value, and drive sales.

Jesse Pedersen (CTO & Co-Founder, BuildingConnected)

Jesse Pedersen is the CTO and co-founder of BuildingConnected. He brings a decade of experience as a web developer, engineer, and technical co-founder for companies such as IronKey, 8×8, and Revvim. Jesse lives in San Francisco with his wife Caroline and his daughter Lillian. A passionate developer and a dedicated Star Wars fan at heart, Jesse will never turn down an opportunity to talk about the Trilogy, coding, or both.
Executive Welcome by Jesse Pedersen
Event Tickets & Details:
Tickets on sale starting at 12:00pm PST on Thursday, October 5th, 2017 at Eventbrite!