WE RECOMMEND TAKING CALTRAIN to get to 151 University Avenue – Palantir is walking distance from the Palo Alto Caltrain station. If you drive, we recommend carpooling as Palo Alto downtown parking can be a little tight. You can find open lots on High Street between University and Lytton and on High Street between University and Hamilton. See you on Tuesday night!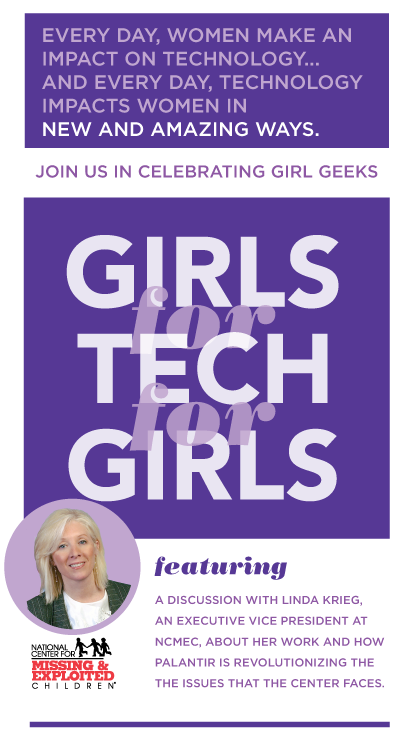 We invite you to the next Bay Area Girl Geek Dinner at Palantir Technologies:
Tuesday, June 14th @ 6:00pm
151 University Ave., Palo Alto, California
About our speaker Linda Krieg
Linda M. Krieg is the Assistant Executive Vice President, Operations, at the National Center for Missing & Exploited Children (NCMEC).In that capacity, she is responsible for the management and administration of technical assistance services including investigational support to law enforcement, parents, and social-services personnel, networking of state/territorial clearinghouses, and monitoring of criminal-justice related services. She joined NCMEC in May 2010 after a 20 year career with the FBI.
Schedule
7:00pm – Lighting talks with Palantir Girl Engineers
7:10pm – Linda Krieg, CEO of NCMEC, Presentation
7:30pm – Live NCMEC demo using Palantir product
7:40pm – Q&A
8:00pm – Networking
Visit the 2nd Floor at the Palantir Girl Geek Dinner for:
"Instant Messaging" photo booth

Sushi station and sushi chef

Dessert stations

Palantir Health Demo station

Palantir Finance Demo station

Dance Dance Revolution
Visit the 4th Floor at the Palantir Girl Geek Dinner for:
Presentation with Linda Krieg
Bar bites and chocolate fondue
Palantir Girl Geek Dinner Swag Pickup station
NCMEC Demo station
Hope to see you there! If you plan on attending, please be sure to RSVP above. We will be checking names at the door.
Email questions/comments to:

koblennis@palantir.com

Follow

@PalantirTech

on Twitter

http://www.facebook.com/Palantir

Guest wireless will be available
About Palantir

Palantir Technologies is working to radically change how groups analyze information.

We were founded in 2004 by a handful of PayPal alumni and Stanford computer scientists. We currently offer two products: Palantir Government and Palantir Finance. Both are platforms for integrating, visualizing, and analyzing the world's information. We support many kinds of data including structured, unstructured, relational, temporal, and geospatial. Our products are built for real analysis with a focus on security, scalability, ease of use, and collaboration.

Palantir Government is broadly deployed in the intelligence, defense, and law enforcement communities, and is spreading rapidly by word-of-mouth. Palantir Finance is in use at some of the world's leading hedge funds and financial institutions.

Palantir is headquartered in sunny downtown Palo Alto, CA with offices in Tyson's Corner, VA.
Disclaimer: Palantir Technologies is not affiliated with, endorsed or sponsored by Palantir.net, Inc. Palantir.net's website is located at www.palantir.net.